Welcome to the Psychiatry-UK Adult ADHD service. We believe that we are now the biggest provider of adult ADHD assessments in the UK.
Attention deficit hyperactivity disorder (ADHD) is a group of behavioural symptoms that include inattentiveness, hyperactivity and impulsiveness.
It can affect people of all levels of intelligence and all walks of life.
What is ADHD?
ADHD stands for Attention Deficit (Hyperactivity) Disorder. It is a neuro-developmental condition, so it develops as your brain develops, in childhood. It is often associated with (co-morbid with, as doctors put it), other neurodevelopmental conditions such as dyspraxia, dyslexia, Tourette's syndrome and what are generally called autistic spectrum disorders.
These co-morbidities can easily mask or counteract some of the more obvious symptoms of ADHD, and an experienced psychiatrist will be well aware of this.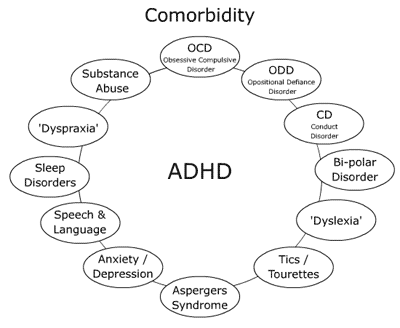 As well as being a neuro-developmental condition, in adults, ADHD is also commonly linked or co-morbid with mental health conditions such as anxiety or depression, where the underlying ADHD has been masked for years by the associated problems that it has resulted in.
A truly shocking statistic is that around 40% of those in prison reach the threshold for diagnosis of adult ADHD and most adults with undiagnosed ADHD will have developed and often sought help for other social problems and mental health conditions.
3 Recognised Sub-types of ADHD
1. Hyperactive – Normally associated with impulsive behaviour and that commonly perceived lack of control in children that has allowed some to dismiss the diagnosis as just bad behaviour and the result of poor parenting. The hyperactive behaviour tends to become more easily controlled as a child goes through adolescence – and to become a more generalised restlessness and/or irritability. This is perhaps why there used to be a belief that ADHD was only found in children. In the last 20 years we have understood that this is not really true.

2. Inattentive – Which is now more commonly known as ADD. Where sufferers mainly experience difficulties staying focused and attending to daily, mundane tasks without being distracted, perhaps moving from one activity to another or becoming bored quickly. In children this is often missed as the resulting behaviour – daydreaming, inattentiveness, underachievement – can be dismissed as laziness or even praised as imaginative but unfulfilled potential.

2. Combined – As the name suggests, where there is a combination of inattention and hyperactivity. In most cases, this is probably the best description of most people with ADHD as they really have a spectrum of types of behaviour, any of which, on their own, could be regarded as quite "normal", but which when part of a larger picture, lead to a diagnosis of ADHD.
Common Perceptions and Misunderstandings about ADHD
That common perception of ADHD, of badly behaved little boys being disruptive in class, is a huge element of the stereotypical prejudice in the way many parents and teachers react to a diagnosis or even a suggestion that a diagnosis should be considered for their child.
The familiar perception is of the most visible sign of ADHD which is at its most florid in young boys. Young girls (and older ones), can also have ADHD but are less likely to be diagnosed, both because they show less hyperactivity and because the present statistics show that ADHD is more prevalent among boys by a factor of about 2 or 3 to 1 – (though this may be partly due to these historic prejudices.)
This common (mis)understanding of Attention Deficit Hyperactivity Disorder often leads to treatment of the condition with stimulants which are chemically similar to some recreational drugs – and which can have adverse effects on those without the condition. It is important to note that they do not give the sort of "rush" that those who use stimulants recreationally desire.
In fact, the medication has positive effects for over 80% of those with  ADHD who try them. They are not addictive, whereas those with untreated ADHD are highly vulnerable, as they become adults, to succumbing to addiction – often by using illegal drugs to self-medicate. The research evidence is that medicating for ADHD actually reduces substance abuse.
ADHD Treatment (First Steps)
If you think you have ADHD, the first step to getting treatment is to receive a diagnosis from a specialist doctor. This is generally a psychiatrist with considerable experience of working in the field of neurodevelopmental conditions.
Although ADHD is usually a lifelong condition, it is also a very treatable condition – 80% of people with ADHD respond very positively to medication and, with better understanding of the condition, can usually learn to manage the difficulties that they would otherwise face. However, only with a specialist diagnosis can these medications be accessed. Whilst  ADHD medications are highly effective, they are stimulants which are "controlled" drugs. You need a special type of prescription from a specialist ADHD clinician. GP's typically continue to prescribe these, provided a specialist ADHD clinician has made a formal diagnosis of ADHD, and you are stable on your ADHD treatment.  
Even with a diagnosis from a specialist psychiatrist, not all GP's will agree to prescribe ADHD medication. It is advisable to discuss with your GP whether they will help, before booking an appointment with us. We will always do our best to help you to get your GP to work with us in a shared care model.
Getting a diagnosis through Psychiatry-UK
NHS patients
If you live in an area where we have an NHS contract, you can definitely see us via the NHS.  If you live in England we would be happy to work with you and your GP to seek funding from your local Integrated Care Board (ICB) for us to provide you with a diagnosis as you have the right to choose to use us. Find out more about your Right to Choose here.
Currently, the relevant NHS commissioning authorities in Scotland, Wales or Northern Ireland have not agreed to fund anyone to receive our services. However, we will try our best to help anyone who lives anywhere in the UK to receive our service via the NHS.
Transparency
We believe in being fully transparent about the costs of using our services and we want to help you to afford our services. 
Receiving an online ADHD assessment is simple – the easiest way is to book online using our automated booking system or, if you need help, talk to our team on 0330 124 1980 between 8.00am and 8.00pm, Mondays to Fridays.
First Step – Diagnosis
Diagnostic assessments cost £360. You do not need a GP referral if you are not seeking NHS funding. 
If you are an adult and you think you have ADHD, you will probably want to get on with having that consultation and getting that diagnosis. That's what it is like to have ADHD! So, press the button, choose your consultant and make an appointment online now. This is when you will pay £360 for your consultation (You can also ring our friendly support team during office hours on 0330 124 1980 to make an appointment and pay over the phone)
Before you see the doctor, we will send out some pre-assessment forms for you to complete.  These need to be returned to us at least 72 hours before your assessment. There are four simple forms: one is a rating scale for adult ADHD, one is about your heart health, another is to obtain the background story of how you are struggling, and the fourth is for someone who knows you well to complete; perhaps a relative, or your partner, maybe a friend, or even someone from work. Some people feel anxious about this part of the process, either because they worry about what others will say, or don't want to reveal that they think they have ADHD, or perhaps because they don't think they have anyone suitable to fill in the form. In the end, it won't be crucial. If you cannot provide this fourth form, we might have to do some extra tests, but we will work it out for you.
What happens during the consultation
It is natural to feel apprehensive about a first consultation with a psychiatrist, but there really is no need to worry. Our psychiatrists are skilled at helping you feel comfortable and at ease – and you are going to be able to set it up so you are in a safe and comfortable place to talk. That is the huge benefit of working online. The psychiatrists all have huge experience of ADHD, in all of its variety, and they have also had direct experience of all of the other conditions with which ADHD can be confused. 
It is not a test – you just need to be yourself. Your psychiatrist will go through your history with you, which will include clarifying your current difficulties as well as obtaining detailed background information from you. If they have any doubts about whether you have ADHD, they may ask you to take further tests, or seek more corroborative evidence by talking to people who know you well. Usually the doctor will be pretty certain within the first few minutes of the consultation starting whether you have ADHD, and the rest of the consultation is really about confirming the hypothesis and teasing out the details of your particular issues so as to best advise you on obtaining help and support in the future.
After Diagnosis – Medication and Titration
After diagnosis, if you choose to try medication, you will need to go through a process called titration where you have frequent contact with a clinician to judge what is the best medication and dosage for you. We offer two titration models:
1.Nurse Titration
Using our centralised nurse led titration system is the most economic and popular option. Meet our nurse prescriber team here.
If you are a private patient, you pay:
£80 per month which covers the fees associated with the titration service. This will give you at least weekly contact with one of our Adult ADHD specialist nurse prescribers

*

through our secure online messaging system (which we call the 'Patient Portal'). They will work with you on achieving the right medication at the correct dose to ensure you're on the best treatment for you.
Each prescription that is issued will cost £25 (this is not the cost of the medication, see below). The prescription slip will be posted to your registered UK address.
Your medication can be obtained from a local pharmacy, which you will pay for as a private prescription. Medication costs can vary considerably, between pharmacies and between medications. Alternatively, you can receive your prescription from our specialist online pharmacy, with the medication delivered to you by courier, wherever you want it delivered.
When you are on the optimal medication for you, you will have a follow-up appointment with your consultant for £180. At this stage, you will (hopefully!) be handed over to your GP on a shared care agreement and they will take over prescribing.
*Sometimes a consultant psychiatrist will undertake this work
2.Bespoke Consultant Intensive Treatment and Titration:
Occasionally, patients feel they need to have their condition managed more intensively by having frequent consultant appointments, with their psychiatrist managing their titration. Those who choose this option can message their consultant between appointments to receive extra advice and support.  
If you feel you need this  service, please raise it with your consultant in the initial consultation and then you will receive a bespoke quotation, setting out a treatment plan, based on a fee of:
£180 per 30-minute appointment, one month apart, until you're on the best treatment for you (typically 2-5 appointments). 
With a bespoke plan, your psychiatrist will also take charge of sending out your prescriptions. 
Medication
Private prescriptions and medication costs
If you are a private patient, there is one variable cost over which we have no control: the cost of the medication charged by a pharmacist during titration. We will provide you with private prescriptions for the medication sent by recorded delivery. You are likely to need between 2 and 5 private prescriptions during titration but you may require more. A full outline of the fees related to ADHD is explained on our fees page under the heading 'ADHD Fees'.
Medication – what are the choices?
The cost of medication varies, depending on the medication prescribed and the charges that the pharmacist makes. If your first medication does not agree with you, or is ineffective, you may have to try others. You may be prescribed something called lisdexamfetamine (Elvanse) or possibly Methylphenidate (for example, Concerta). There are also non-stimulant medications available, such as Atomoxetine. The costs for these medications will vary depending on the brand. Your nurse should be able to give you a rough idea of the costs of these medications once they have been prescribed to you.
Shared care – back to your GP
Once you are stable on medication, we prefer to refer you back to your NHS GP so that they can take over prescribing. This means you can receive a monthly NHS prescription from them rather than having to pay for a private prescription from us, with medication costs on top. Once titration comes to an end, you will have a 30-minute consultation with your psychiatrist. This will cost £180. Your psychiatrist will discuss your medication with you, along with whether you could benefit from receiving some psychosocial support. They will then write to your NHS GP, setting out details of your treatment to date, and requesting the GP agree to take over prescribing your medication for the following 12 months. We would expect your GP to always ask you to receive an annual check-up from us as well, as part of the conditions for their prescribing, which will cost £180 for up to 30 minutes. However, you can request that your GP refers you to your local adult ADHD NHS service for these annual appointments and we will support you in getting them to do that.
Some GPs do decline to prescribe ADHD medication. In some locations, the recommended medication is not funded by the local ICB. Sometimes the local mental health service insists that they review a patient before accepting a diagnosis from any other location or service. We are committed to helping you receive ongoing NHS funding and will always do our utmost to get your GP to accept a shared care arrangement with us. However, we do advise patients to talk to their GPs before they commence treatment with us to ensure that there are no unpleasant surprises.
The importance of psychosocial interventions
People with ADHD can have wonderful talents, but there is also a huge range of adverse effects on your thinking or behaviour patterns which are associated with having the condition. It really needs more than just taking the medication to learn about your ADHD self. You need to learn how to build on the strengths and overcome the consequences of the impairments associated with ADHD. There is a lot of evidence that receiving high-quality specialist coaching is very important – in fact it can transform your life.
For some people, it can be hard to repair the damage of half a lifetime without treatment. Exploring therapeutic models such as mindfulness or Cognitive Behavioural Therapy, when done with accredited ADHD specialists, helps with residual symptoms and is especially important in managing comorbid disorders such as depression and anxiety.
We have a number of ADHD specialist psychologists, psychotherapists and life coaches working with us. Once you are on the correct medication, receiving the best psychosocial support is what we would always suggest.
Further Reading
If you are now seeking some further information, these books are all on our bookshelves and recommended:
More information About ADHD: