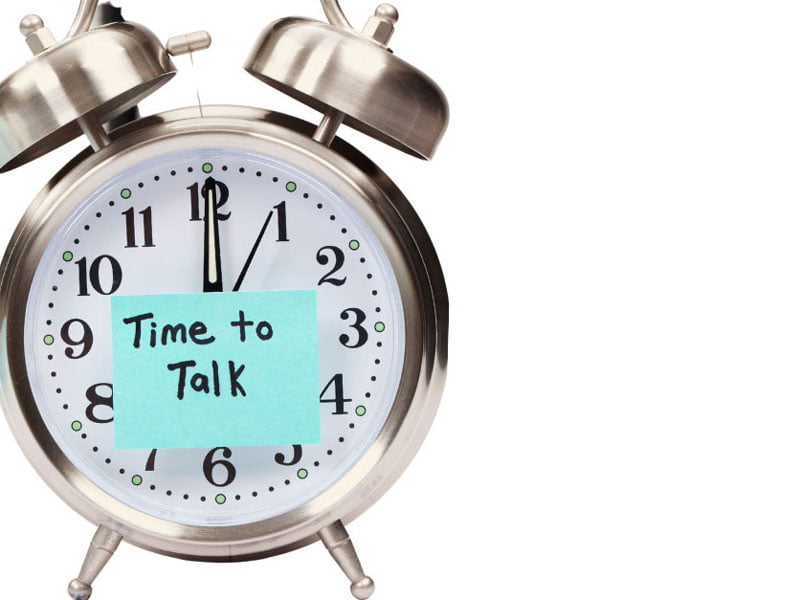 Think back a few decades and you may recall Aunt Ivy, Grandma Olive and Mrs Grey from next door sitting around the kitchen table, cup of tea in hand, having a natter. They put the world to rights, exchanged recipes and had a moan or two about their significant other.
Talking is taboo.
Mental health, however, was not explored in any way, shape or form. It was a taboo subject.  Brenda (74) recalls:
"We just got on with it. My mum was the same. Mental health was never discussed and any issues were brushed under the carpet. Don't even mention the menopause or depression, my mum would have been mortified!. It was very hush, hush as you didn't want to end up in an asylum."
The Mental Health Foundation website explores the history of mental health:
'In the 1950s, ignorance about mental health meant that there was extreme stigma and fear surrounding it. People with mental health problems were considered 'lunatics' and 'defective' and were sent off to asylums. 'Insanity' was thought to be incurable and there was no incentive to treat it.'
Thankfully, asylums are a thing of the past and society has progressed from incarcerating people for ill mental health. It still begs the answer, however, as to why discussing your mental health seems to incur a blot on one's escutcheon.
Mental health: a personal journey.
Ryan Harland, who is the author of, 'Riding the Storm: a memoir of mental illness, has mental health difficulties. Ryan was diagnosed with Emotional Intensity Disorder (EID) and Emotionally Unstable Personality Disorder (EUPD).  
The book he wrote is an account of his struggles. It is hard-hitting and, at times, challenging to read due to the emotive content. However, it is inspiring to discover that he is managing his conditions much better and has successfully completed the London Marathon three times, raising money for charity in the process. 
Ryan uses an unusual metaphor to describe his conditions:
"Imagine you are wearing sunglasses. You are always wearing sunglasses. You never take them off. The sunglasses are not there to protect you like normal sunglasses, they don't shield you from the sun and make you look cool and feel groovy. These sunglasses harm you. Each pair makes you see the world, and yourself, in a different way, a sinister, confusing, threatening way."
Ryan took part in targeted group therapy, the STEPPS programme, which is a practical, evidence-based treatment using cognitive behavioural therapy (CBT) for people who have Ryan's diagnosis. Taking part in the sessions had a positive impact on Ryan:
"I know I will always have my mental illness but I'm understanding it more and more every day. I am beginning to notice subtle changes in how I'm dealing with the situations that life throws my way and it's all good."
Community support.
Once the programme finished Ryan wanted to do more and, as well as writing his book, he joined MenTalk, a support group organised by the charity Sheppey Matters. They hold informal meetings, driven and championed by men for men and meet weekly for members of the community to have a chat, take part in activities or just sit and enjoy each other's company.
Nicola Waghorne, Community Engagement Manager for Sheppey Matters, and Rebecca Gebbie, Project Manager for Isle Connect You, approached Ryan Thompson who had started a local group called 'Talk it Out'.  The aim was to get men together, once a week, to support each other. Ryan agreed to become the Mental Health Ambassador for Sheppey Matters and between them they established, 'Mentalk – Time to Listen':
"We have wanted to set up a group for men to be able to talk about their mental health for a long time. People who are struggling with mental ill health tend to feel isolated and MenTalk is, hopefully, helping to break down barriers and reduce the stigma. The groups are set up and run by men for men throughout the Island. It's time to talk about mental health and the men that organise and take part in MenTalk are inspirational."
So, when is a good time to talk? The answer to that is easy – anytime. Talking about mental health is a sign of strength and has the ability to empower and increase self-esteem, which is why Time to Talk Day is so important. It is organised by the national mental health charities, Mind and Rethink Mental Illness, who have collaborated to help create supportive communities where mental health can be discussed.
Mind and Rethink provide some resources to download to support your own Time to Talk Day event, which include Top Tips for Talking and a free resource pack. Here are some ideas that may help you think about how to talk and support:
Talk and Support
1) Eye contact is not always necessary. In fact, it can be off-putting for the person talking, especially if the topic is emotive. Try doing an activity together such as:
Walking.
Mindful colouring.
Jigsaw puzzles.
Cooking.
Doodling.
Tidying a cupboard or drawer.
Window shopping.
Going to the gym.

 
2) Organise a box of tissues, some snacks and have a hot drink close at hand for any eventualities.  
3) Have some Rescue Remedy in your Talk and Support Toolbox. It consists of a formula containing a unique combination of 5 natural Bach™ Original Flower Essences, for support in times of emotional demand.
4) A nice, warm blanket or throw can provide comfort and support when a friend needs to talk. A weighted blanket offers that and so much more. According to Healthline they can also help to reduce the symptoms of anxiety and depression. 
All of the above are suggestions that may prove helpful. However, first and foremost, it is being present that can have the most impact.
There may be times that sitting in silence, watching a film or just a gentle touch of the hand can mean more than any organised activity, group or therapy.
Talking about mental illness is the new black. What are you waiting for? Start talking!
Written by Beverley Nolker, Education Development Officer for Psychiatry-UK and the HLP-U Clinics.